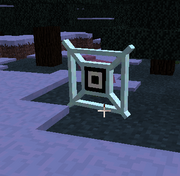 Frosts float slightly above the ground, they seem to glide along existing stuctures, such as trees etc.
Grosts first appeared in version 1.1
Spawn area
Edit
Snowy biomes

Tundra
Taiga
Taiga plains
Frosts have long range attacksFireball

Do not turn the enviorment on fire (confirmation needed)
Around 60 DHP
Health: 110
Ice blocks (Confirmation needed)
Ice stones
Ice shards
Ad blocker interference detected!
Wikia is a free-to-use site that makes money from advertising. We have a modified experience for viewers using ad blockers

Wikia is not accessible if you've made further modifications. Remove the custom ad blocker rule(s) and the page will load as expected.