White mushroom
(s) are an item added with Divine RPG.
White mushrooms are inedible but can be crafted along with other items into various food items.
White mushrooms first appeared in version 0.6.
Acquiring
Edit
White mushrooms are dropped by Glacon (s), and can also be harvested from white mushroom plants.
4 seeds can be crafted from a single white mushroom.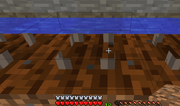 White mushrooms can be grown like other plants in minecraft.
Place the seeds on a hoed dirt block, preferably next to water, by right clicking on the block with the white mushroom seeds.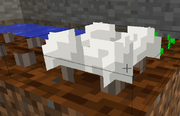 Bone Meal
Edit
Bone meal does not work on white mushrooms.
The mushrooms don't seem to grow, but after waiting a while you can prompt their growth by right clicking on them.
White mushrooms can be used to craft pizza and stuffed chicken dinner.
Crafting recipe for pizza:
Crafting recipe for stuffed chicken dinner:
Ad blocker interference detected!
Wikia is a free-to-use site that makes money from advertising. We have a modified experience for viewers using ad blockers

Wikia is not accessible if you've made further modifications. Remove the custom ad blocker rule(s) and the page will load as expected.